Arwop Reviews – I came across a website with a great collection of clothes. It showcases beautiful casual dresses, sweaters, tops, cardigans, and co-Ord sets. You can also browse according to your price range and season preferences. Additionally, there are so many discount offers. I did not want to miss this, but I wasn't sure whether I should trust this website. 
This website made me suspicious as I remember coming across a similar website not very long ago. The business was running a scam and trapping people with their amazing-looking products. Therefore, I decided to investigate Arwop reviews first and learn about the website's legitimacy.
Nowadays, online scams have become so dense that one must buy something after thorough research so that one may be okay with it later.
Don't Miss: Abbyyo Reviews – Is It Legit Website For Purchasing Women Clothes or Another Scam?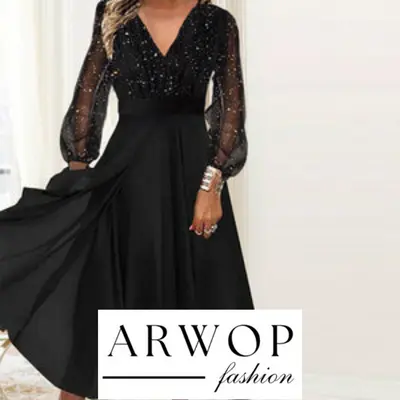 About Arwop Reviews
Interestingly, the business is run by two sisters. It was founded in 2016, and it sold clothes from other brands. They are based in South Carolina, USA, and ship to over 220 countries worldwide. Soon, they decided to recruit designers to make their own brand, so Arwop was created. It is devoted to creating a neutral platform for small brands and yet-to-be-famous designers seeking bigger audiences for their designs.
The inspiration behind their brand is their grandmother, who often couldn't buy the clothes she wanted; their collection was fixated mainly on mature women in the initial days. Now they aim to abolish differences between ages, as they want to provide more fashion choices for women with a heart for beauty.
The company offers people cost-effective clothes. According to them, they have excellent production factories, no middlemen, and the extra costs involved, allowing them to maintain high standards of quality and style at amazingly low prices. They have opened several new brick-and-mortar stores over three years, which reaped great rewards thanks to their self-production and self-selling business model.
After COVID-19 in 2020, they suffered from bankruptcy, hence decided to shift their business online. They offer on-trend, cute casual clothing for women. You will see new arrivals daily and an addition of over 100 items weekly. They also keep on updating with new collections and promotional offers.
They have also been donating a portion of their annual revenue in the past two years to the local government for the medical treatment of COVID-19 patients, hoping to eradicate COVID-19 soon and return to their former state of living without the fear of disease.
That was interesting and inspiring to read about the brand!
Arwop Product Reviews
There's a wide variety of products to choose from according to your liking, style, fabric preference, design, and occasion.
They have tops and all kinds of dresses, mini dresses, midi dresses, long flowy maxi dresses, sweaters, cardigans, cape-styled tops, and co-Ord suit sets. These items come in casual and fancy styles, according to your preference. Many outerwear options include jackets, coats, zipped sweaters, hoodies, long-sleeved tees, blouses, and trendy chic tops. They have a new collection being updated every now and then. 
This can be your one-stop shop for trendy, cute, and fashionable pieces to fill your wardrobe. You can also shop according to your price range and season. They offer items at a good price, and one can avail of free delivery with shopping for over $79. You can also get up to 40% discount as their latest Spring offer. Coupon 'save5' gives you an extra 5% OFF over 1 item, and 'save10' gives you an extra 10% OFF over two items. There is also a 30 Day Money-back guarantee.
Before I give my final verdict and do more research into what I found out about the Arwop reviews, let's talk about the pros and cons first.
Arwop A Legit Website Or Another Online Scam?
 Let's dig in to see if this website is legit or not.
Finding out all this information regarding the website is quite astonishing because they have painted such a perfect picture of everything on their website. The domain age, low trust score, and several other reasons I mentioned above make this business suspicious. People always look for reviews and verify the authenticity of any online business before investing in their products.
Also Read: Modsele Reviews – Is It Best Place To Buy Women Clothes or Another Online Scam Store?
Arwop Reviews By Customer
 I looked for Arwop reviews on their website. There were different customer reviews about their products under each product on their website. All the reviews were good but surprisingly, no bad reviews. People were satisfied with the overall experience of shopping with them. The fabric quality, design, and variety of stuff they offered in one place was something many people liked about their website. According to the reviews on the website, everything looks good!
When looking at their Facebook and Instagram, there were also no reviews. Furthermore, I couldn't find reviews on other social platforms or websites. This rings some alarm bells, but let us determine if the website is legit before concluding the final remarks.
Pros
Detailed Size charts.
Every detail of the item is mentioned.
Great variety of clothing options.
They offer a 30-day money-back guarantee.
Facebook and Instagram presence is mentioned.
You can 'Shop by Price' according to your budget.
Coupon code to save 5% on purchasing more than 1 item and an extra 10% OFF on two items.
Free delivery over $79.
The reviews section is not hidden.
Contact details and email addresses are mentioned on the website.
Return, exchange policy, and customer care section mentioned.
Cons
Monotonous reviews. All positive reviews.
Incomplete contact details.
Conclusion
For my concluding remarks regarding this website, this is a dubious website as not much could be found about it. No reviews, low social media presence, low website traffic, low trust score, domain age, and many other factors contribute to this website's illegitimacy. You should not invest in buying their products. Always search and read reviews through different social platforms and check for other technical aspects that prove the website's legitimacy. If the website has hidden its review section, that could be another red flag. Also, rely on reviews on other social platforms as well.
This was the crux of everything I could find out about Arwop reviews. I hope it is helpful to you and you will refrain from buying anything from here.